Avis de décès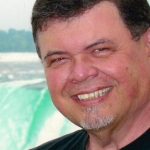 ANDRÉ ENG BLANCHETTE
SHERBROOKE - Avis de décès
Passed away in Sherbrooke on May 9, 2015. André Blanchette, in his 56th year, beloved husband of Cheryl Jones, and son of the late J. Denis Blanchette and the late Claire Lachance, of Sherbrooke.
Mr. Blanchette was the loving father of Melissa Blanchette, Tanya Blanchette, Tom (Thomas Ian) Blanchette (Nathalie- Ann Loubier), dear brother of Michelle Blanchette (Gilles Grondines), Alain Blanchette (Carol-Ann Southwick), Daniel Blanchette (Johanne Roussille), third brother, well-loved René Blanchette (Ginette Blais). His mother in law Olive Langlois Jones and brother-in-law of George Jones (Judy Roadnight), Ken Jones (Betty Picken), Christine Jones, Candie Jones (Patrick Clemens), many nephews, nieces other friends and relatives.
Family and friends will meet at the Steve L. Elkas Funeral Home, 601 Conseil Street, Sherbrooke, Qc on Saturday, May 16, 2015, from 11:30 a.m. to 2:30 p.m. Funeral will be held on Saturday, May 16, 2015 at 3 p.m. at the St-Michael's Cathedral (130 Cathédrale, Sherbrooke).
The family would like to thank all the personnel of the Maison Aube Lumière and the ORL department of the CHUS Hotel-Dieu for the good care given to Mr. Blanchette.
"To all the passionate HOCKEY FANATICS I have had the pleasure and honor of working with during my career, Thank you and until we meet again"