Avis de décès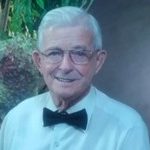 ERIC ( EN ) TRUSSLER
SHERBROOKE - Avis de décès
Passed away peacefully on February 17, 2016 at the age of 93 at the Saint-Vincent de-Paul with his loving daughters by his side. He was the son of the late Roy and Alice (Rickner) of Sherbrooke, Quebec.
Eric spent most of his years in the Lennoxville/Sherbrooke area and was involved in many organizations including the Army Navy Air Force, Community Aid, The Stamp and Coin Clubs in Sherbrooke and Newport, Vt.
Eric proudly served his country during WWII and was a veteran of many battles during the Italian campaign.
Eric leaves to mourn his wife Madeleine (Desruisseaux); his daughters and sonsin- law Sandra and Robert Beaudry of Sherbrooke, Que. and Betty-ann and Craig Meyers of Ottawa, ON; his grandchildren Jennyfer (Francois), Louise (Jonathan), Sebastien, Marianne (Simon); his great-grandchildren Xavier, Phillip, Dahlia, Nathaniel and Anadra. Eric was predeceased by his loving brothers Lynn and Ernie and sister Rosa. Many nieces, nephews, cousins and cherished friends also share in our loss.
Funeral arrangements entrusted to the Steve L. Elkas Funeral Home Inc., 601 rue du Conseil, Sherbrooke, Que. Visitation will start at 1:30 p.m. on Saturday, February 27, followed by a ceremony at 3:30 p.m. at the Steve L. Elkas Funeral Home.
The family wishes to thank the staff at the Saint-Vincent-de-Paul for their care and compassion.