Avis de décès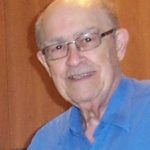 GEORGES (ENGLISH) BLANCHETTE
SHERBROOKE - Avis de décès
Georges Blanchette peacefully passed away on December 12, 2015 at the CHUS Fleurimont. Husband of the late Jacqueline Forgues, he leaves behind his four daughters Gisèle (Luu Mai), Diane (Richard Bubar), Nicole (Francis Parent) and Élise (Benoit Legault), his grandchildren Marie Parent, Simon Parent, Nicolas Legault (Josianne Lemieux) and David Legault, and his siblings Anne-Marie (Roland Lafrance), Henri (Claudette Fleury), Norbert (Marielle Forgues), Thérèse and the late Philippe (Pauline Forcier). He is also survived by the members of the Forgues family as well as nephews, nieces and friends.
The family will welcome you at the Steve L. Elkas Funeral Home, 601, rue du Conseil, Sherbrooke, on Thursday, December 17 from 2 to 4 p.m. and from 7 to 10 p.m., and Friday from 9 a.m. until departure from the home at 10:45 a.m. The funeral service will be held on Friday, December 18 at 11 a.m. at the Immaculee-Conception church.
The family wishes to thank the staff of the CHUS Fleurimont for their kindness, understanding and the excellent care provided to Mr. Blanchette.
As an expression of sympathy, memorial contributions may be sent to the CHUS Foundation, 530, 10e Avenue Sud, Sherbrooke (Qc) J1G 2R9 or to the Heart and Stroke Foundation, 2630, rue King Ouest, Bureau 100, Sherbrooke (Qc) J1J 2H1.