Avis de décès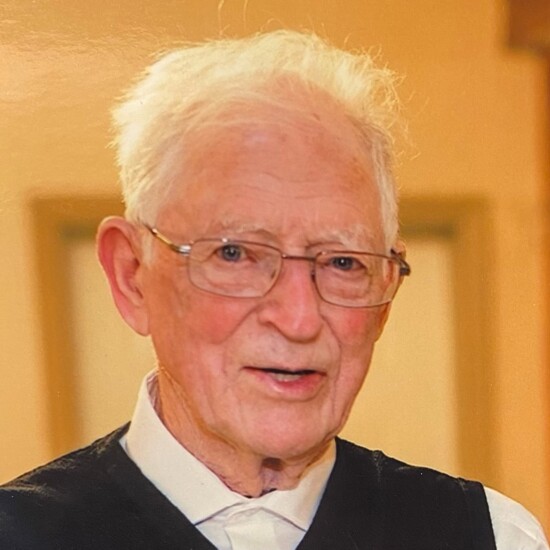 M. Stanley Frederick Brown
Sherbrooke - Avis de décès
It is with regret that we announce the death of Stanley Brown, in his 94th year, at Grace Village in Sherbrooke. Stan was predeceased by his first wife Irla McGinty and his second wife Audrey Page Orr. He will be dearly missed by his companion Priscilla (Pat) Decoteau.
Stan was well known to Sherbrooke residents as "Farmer Brown", having run a market garden and Christmas tree
business from his home on Duvernay Road for many years. He was a cherished stepfather and grandfather. Stan will be fondly remembered by step-children Robin Orr (Margaret Brand), Royal Orr (Louise Caron), Jennifer Orr
(Bruce Suitor), his grandchildren Alexandra Orr (Stéphane Beaudoin), Micah Orr (Cynthia Marrotte), Jacob Orr (Kassandra Gilmour) Kenneth Suitor (Tanya deJonge) Matthew Suitor (Amanda Bushey), and his great-grandchildren Brooklyn and Braxton Suitor, Gwenevere, Freya, and Tobias Suitor, Frédéric Beaudoin, and Mathis Orr. Predeceased by brothers Norman (Verian Mcoy), George (Mary McLeod), and sisters Vivian (John Cox), Merle (Aylmer Bradley), and Carrol (Douglas Garfat) Stan also leaves to mourn several nieces, nephews and friends.
A funeral service will be held Saturday, May 7 at 2:00 p.m. at the Steve Elkas Funeral Complex, 4230 rue Bertrand-Fabi, Sherbrooke, with family gathering at 1:30 p.m. to receive condolences. Interment will follow at the Elmwood Cemetery, Sherbrooke, QC.
In memoriam donations can be made to the Elmwood Cemetery, P.O. Box 751, STN Place de la Cité, Sherbrooke, QC, J1H 5K7 or to the Grace Village, c/o Grace Village Care Foundation, 1515 Pleasant View, Sherbrooke, QC, J1M 0C6.