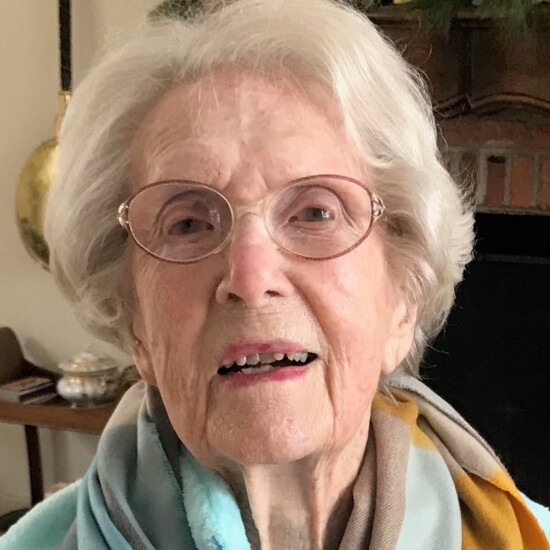 Mary Gregory Webster
Massawippi, 10 février 2021
Peacefully, of natural causes, at her home in Massawippi, Quebec, in her 104th year on February 10th, 2021.
Loving wife of the late Lorne Stuart Webster, she was also predeceased by her parents, Philip and Margaret Gregory and her brother Peter Gregory.
Born and raised in Montreal, Mary was educated at Miss Edgar's and Miss Cramp's School. She continued her studies at McGill University earning her Bachelor of Arts degree in 1938 and was one of the few women accepted into medicine at that time.
Mary married Lorne Stuart Webster in June of that year. They were together for 39 years until his untimely death in 1977. They made their homes in Montreal, Massawippi in the Eastern Townships and at Prouts Neck, Maine.
Mary was endowed with a curious mind and high intelligence. The love of learning sustained her throughout her life. She was a voracious reader, loved reciting poetry from memory and took a great interest in politics, history and literature. She was loyal and caring to her wide circle of interesting friends. Over her lifetime she was always accepting of new ideas and issues embracing their many challenges.
She was involved with her communities, serving on the Board of Directors of the Girls' Cottage School and Chambly Village and was Chair of the Board of Miss Edgar's and Miss Cramp's School. She was very active in her beloved village of Massawippi since 1940 when she and Stuart bought their first Jersey cows to establish Bonnyburn Farm.
Mary and Stuart were avid travellers, going regularly to Klosters, Switzerland, Barbados, Gasparilla and John's Island in Florida, and other wonderful destinations across the globe. She kept this interest in travel well into her 90's.
She will be greatly missed by her four devoted children, Susan Fitzpatrick, Vicky Webster, Philip Webster (Judith) and Lucy Hensel.
Dearly loved and cherished by her twelve grandchildren, Lucy Riddell (Kathy), Mary Riddell, Kate Riddell, Neil Riddell (Marie-Eve), Wendy Balazs (Tony), Sara McLaverty (Chris), Fred Wanklyn (Jennifer), Anne Samulevicius (Marius), Stuart Webster (Claire), Emily Webster,
Vicky Di Vittorio and Stuart Hensel.
Her 31 great-grandchildren were very engaged with her and visited whenever possible. She loved their company and followed closely their activities and development with keen interest, pleasure and pride.
Mary was the last remaining member of her generation of the extended Webster family and as such was admired and honored by her many nieces and nephews. She was a great inspiration to the younger generations and to many of their friends.
The family is most appreciative of the kind and thoughtful care of Dr. Jacques Trudel and the nurses of the CLSC, Magog. Mary was blessed to have an amazingly wonderful team of home caregivers who enabled her to stay in her house in Massawippi and provided great comfort, support and companionship in her later years. The family will be forever touched and grateful for their presence in her life.
A private family service will be held at the Steve L. Elkas Complex, Sherbrooke, Quebec on Saturday, February 20th, 2021 at 1.30pm.
The service will available on-line  you can view the ceremony live or on replay at https://funeraweb.tv/en/diffusions/24448
To honour her memory, a donation may be made to the Alma Mater Fund (Mary Gregory Bursary) at McGill University, 1430 Peel Street, Montreal, Quebec, H3A 2T3 or to Camp Massawippi, 3, Chemin Round Bay, Ayers Cliff, Quebec, J0B 1C0 or to a charity of your choice.
Une pensée pour l'être cher
Faites parvenir un message de sympathie à la famille
Vous pouvez faire parvenir dès maintenant un message de sympathie à la famille et aux proches de la personne décédée en utilisant le formulaire ci-dessous.