Avis de décès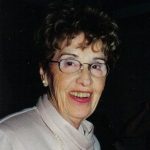 MARY IRENE (ENG) MCDONOUGH JACKSON
SHERBROOKE - Avis de décès
Passed away at the CHUS-Hotel Dieu in Sherbrooke on Saturday March 17, 2012 at the age of 83. Mary Irene McDonough Jackson was the daughter of the late Gerald McDonough and the late Imelda Muir and the wife of the late Reginald Jackson of Sherbrooke, Qc. Mrs. Jackson was the loving mother of Michael (Nancy), Helen (Joe), Stephen (Colette), Kathleen (Jorge) and Virginia; cherished grandmother of: Jennifer (Iain), Christopher (Casie), Emma, Christine (Nick), Colin, Rheanna, Tamara, Irene and Ashley; loving great-grandmother of Reilly, Eli and Kassandra; dear sister of the late Léo (Elly), John (Suzanne), Pat (the late Joan)(Elke), Lawrence (Nancy), the late Bridgitte (the late Patrice); sister-in-law of the late Ken Jackson (the late Madeline), Morris (late Rose), Fredrick `Bud`Jackson (Sheila). Also left to mourn are many nephews, nieces other friends and relatives.
Those wishing to pay their respects are invited to the Steve L. Elkas Funeral Home, 601 Conseil Street, Sherbrooke, Que, J1G 1K4, tel: 819-565-1155; fax: 819-820-8872; e-mail: info@steveelkas.com,
on Tuesday March 20, 2012 from 6:00 PM to 8:00 PM. and on Wednesday March 21, 2012 from 9:00 AM to 10:30 AM.
Funeral service will be on Wednesday March 21, 2012 at 11:00 AM at St-Patrick's Church, Sherbrooke, followed by burial at the Elmwood Cemetery, Sherbrooke, Qc.
The family would like to thank everyone at the Grace Christian Home and the nurses and staff of the CHUS Hotel-Dieu (4C) for their kind and professional care given to Mrs. McDonough Jackson.
In lieu of flowers, donations to the Klink Foundation or a foundation of your choice would be appreciated.
Direction des funérailles
Entreprises funéraires membres de la CTQ
Résidence funéraire Steve L. Elkas inc.
601, rue du Conseil
Sherbrooke, Québec
Canada J1G 1K4
Tél. : 819-565-1155
Téléc. : 819-820-8872
info@steveelkas.com
www.steveelkas.com