Funeral complex
Steve L. Elkas
Inaugurated in March of 2016, Steve L. Elkas' funeral complex is located in the Rock Forest district of Sherbrooke and offers a unique combination of services in a classy contemporary decor. Viewing and visitations, funeral ceremony and reception services are now all offered under one roof, thus improving the quality of services offered to families.
Funeral parlor
Our funeral complex, equipped with many innovative features, features three funeral parlors that can welcome up to 330 people at a time. Thanks to a flexible layout, the parlors can be configured to best suit each family's specific needs and requirements. Every detail, even the lighting – which can be adjusted to offer a warm and serene atmosphere – has been designed to offer each family a customized experience. Each parlor has a separate private room where the family can retreat for more intimacy. Private corridors for the family and the deceased link together the funeral parlors to the chapel, offering families a smooth and intimate transition from one area to the other.
Chapel
The chapel, which can welcome a maximum of 235 people, is contiguous to the three funeral parlors. Decorated in the latest style, this place of worship is equipped with a state of the art audiovisual system. Funeral ceremonies can be customized in such a manner as to offer each family a unique, representative and meaningful experience.
Reception halls
Our new funeral complex offers you the possibility of getting together with family and friends after the funeral. We have 2 rooms which can accommodate up to 120 people each, and that can be combined together to welcome up to 240 people, and a third, cocktail-style room, furnished with high tables and high chairs which can welcome between 90 and 150 people. There is also a bar directly on the premises, and you can choose your catering services for the reception.
Columbarium
We now have an in-house columbarium, adjoining the funeral parlors, the chapel and the reception rooms. This is a warm, inviting, and contemplative space with a lounging area where you can sit comfortably.
Additional features that make all the difference
Outdoor garden
A spacious outdoor garden offers families a peaceful retreat or a place to share.
Playroom
Children can enjoy the comforts a playroom where they will find toys, books, and a television to entertain themselves.
Meeting room
In order to allow families to plan the funeral ceremony in private, we offer two comfortable meeting rooms.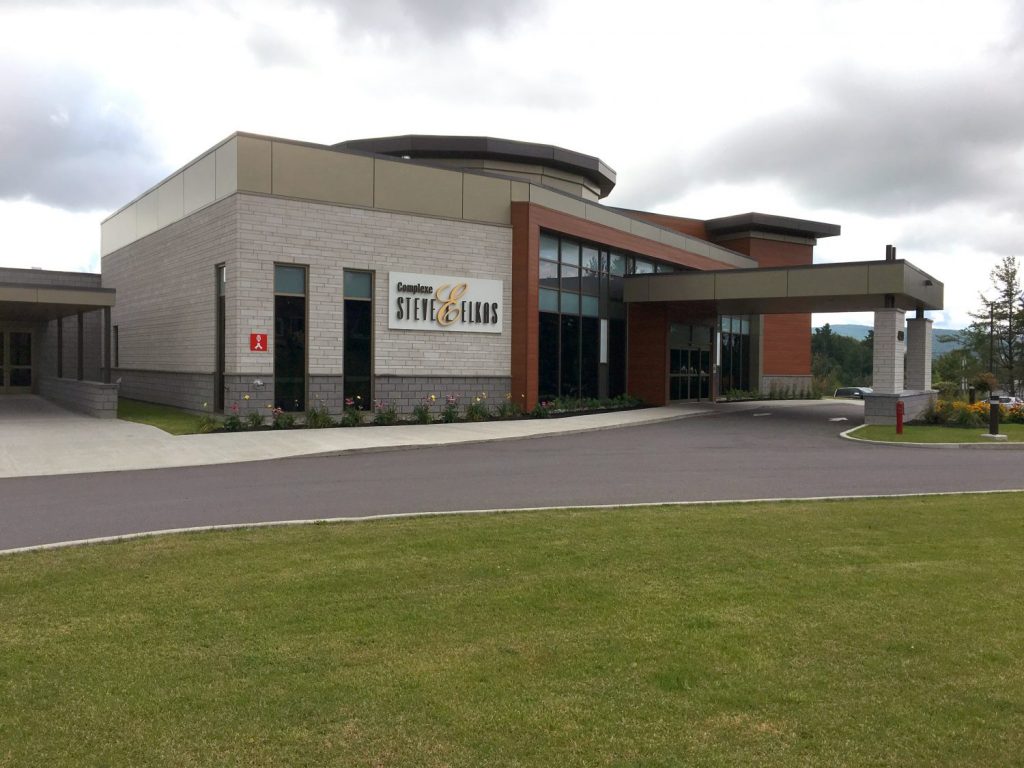 Funeral support
Impeccable and affordable support
Many years of involvement in the community have enabled the Steve L. Elkas Funeral Home to set up several services to provide better support to people who have to go through the different stages of grief. For example, we can provide assistance to parents dealing with the loss of a child, psychological support for the family members of the deceased, free transportation services to bereaved families, home and hospital meetings and assistance in all administrative tasks for survivors.
Learn more
Funeral Planning
Services offered 24 hours a day in a warm, family-style way
The pain and grief associated with the loss of a loved one is inevitably followed by the planning of a funeral. Since every action that follows a death brings the family closer to the final separation from the deceased, the planning of a funeral is considered to be an integral part of the grieving process.
Learn more
Funeral complex
4230, Bertrand-Fabi Street
Sherbrooke J1N 1X6