Funeral Pre-arrangements
Spare your family the burden of having to make funeral arrangements after your death by taking care of them while you are alive.
Depart with peace of mind…
In order to spare your family undue stress, and to ensure that your last wishes are respected, Steve L. Elkas Funeral Home invites you to carefully plan your own funeral.
Steve L. Elkas Funeral Home offers personalized funeral pre-arrangements services to those who have the foresight to prepare their departure and to make their final wishes known and respected.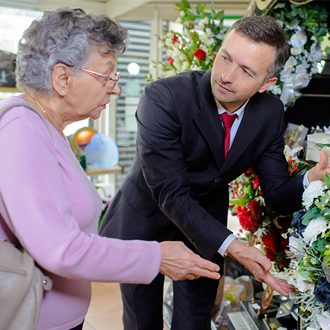 What are funeral pre-arrangements?
Funeral pre-arrangements are a contract between you and the funeral home whereby you set out, in detail, the way that you want your funeral to be conducted. With the help of one of our counsellors, you will be allowed to choose, in advance, the list of products and services you will be receiving upon your death.
What are the advantages
of funeral pre-arrangements?
Spare members of your family difficult decisions during an emotional time;
Simplify the planning of your funeral service;
Allow your loved ones to mourn your passing instead of having to deal with  delicate administrative tasks;
Ensure that your last wishes are respected;
Spare your family financial concerns at the time of your death;
Avoid escalating prices over the years.
Meet with our counsellors, free of charge and without any obligation on your part, in order to obtain the information that you need to plan your funeral:
Meeting available in the comfort of your own home
Free documentation on how to plan for your funeral
Ever striving to offer impeccable services and wishing to assist you with difficult decisions, we offer a brochure on funeral planning where you can also write down your last wishes, free of charge and without any obligation on your part.
Ask for a quote
Since 1964, Steve L. Elkas Funeral Home has done its best to offer funeral services that meet peoples' needs while respecting their wishes and budget. Finances are never an obstacle as we believe that everyone has the right to a dignified funeral.
In the difficult times that follow a loved one's death, few people think to shop for funeral services. Getting several quotes, however, could help you to find products and services that meet your needs at the best price possible. Steve L. Elkas Funeral Home is convinced it is as competitive as it can be, and therefore invites people to ask for a quote in order to compare prices.