What to do
when someone dies 
Despite the pain of losing a loved one, a certain number of administrative steps must be taken as quickly as possible, which can be an overwhelming prospect when facing things alone. That's why Steve L. Elkas Funeral Home is there to support and assist you throughout those difficult times. Please see the to-do list below.
Your to-do list
Contact
the Steve L. Elkas Funeral Home, 819 565-1155 in order to report the person's death (services offered 24⁄ 7).
Meet
with one of our funeral counsellors at the funeral home.
Choose
your flowers, catering services and type of funeral service.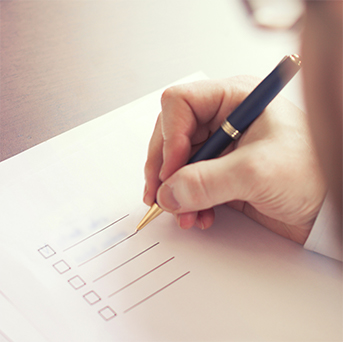 Inform you
as to the various steps to take as well as the possibilities regarding the funeral service.
Make arrangements
to pick up your loved one's body.
Meet
with your family to make the funeral arrangements.
Inform
authorities of your loved one's death:
Registrar of Civil Status;
Income security;
Other concerned agencies (RAAQ, IVAC, Veterans Affairs).
Cancel
the person's identity cards:
Social insurance card;
Driver's license;
GST and QST credits;
Passport;
Others, if needed.
We will also take care of the following things for you :
File
the papers required for:
Surviving spouse's pension;
Orphan's pension, if necessary;
$2,500 death benefit;
Social insurance, if necessary;
SAAQ benefits, if necessary;
CSST benefits, if necessary.
Coordinate
the catering services, funeral bookmarks' and candles' design as well as the pre-ordered flower arrangements.
Prepare
the body for viewing and visitations or cremation.
Celebrate
your loved one's life.
Pay homage
at your loved one's life final resting place.
Offer
psychological support to your grieving family.
We also offer a wide range of documents for further information and assistance.
Contact us
Funeral Pre-arrangements
Spare your family the burden of having to make funeral arrangements after your death by taking care of them while you are alive. Funeral pre-arrangements are a contract – passed between you and the funeral home – that will allow you to settle your funeral arrangements down the very last detail.
Learn more
Funeral support
Impeccable and affordable support
Thanks to its extensive experience in the community, Steve L. Elkas Funeral Home has created various services in order to offer the best possible funeral and psychological support to people who have lost a loved one.
Learn more