Funeral Home
Steve L. Elkas
This funeral home, situated in the eastern portion of Sherbrooke, was  Steve Elkas Funeral Home' very first place of business. Several additions have been made to the building over the last 40 years. The home offers three separate parlors. That means that we can welcome up to three families at a time for viewing, visitations and ceremonies, and we can change the rooms' layout to accommodate your specific requirements and needs. Two spacious parking lots adjoin the funeral home.
We offer funeral pre-arrangements and funeral arrangements directly on the premises. We also offer a selection of caskets which can be viewed in our showroom.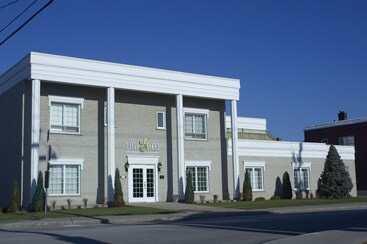 Funeral support
Impeccable and affordable support
Thanks to its extensive experience in the community, Steve L. Elkas Funeral Home has created various services in order to offer the best possible funeral and psychological support to people who have lost a loved one.
Learn more
Funeral Planning
Services offered 24 hours a day in a warm, family-style way
The pain and grief associated with the loss of a loved one is inevitably followed by the planning of a funeral. Since every action that follows a death brings the family closer to the final separation from the deceased, the planning of a funeral is considered to be an integral part of the grieving process.
Learn more
Funeral Home
601 Conseil Street
Sherbrooke J1G 1K4